New Uniform Checklist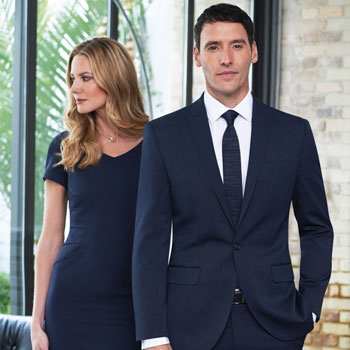 INTRODUCTION OF NEW CORPORATE UNIFORM


Overview

Our aim is to organise the introduction of a staff uniform with the minimum of administrative effort on behalf of the customer. Once the overall arrangement is confirmed then we can supply all supporting documentation, order forms etc ( either manual or web based) to enable staff to place orders for their uniform which we will then process. We will deal with all matters arising – returns, queries etc. We will advise of any issues, backorders etc as needed.

Range of Uniform

Final agreement will be required to confirm the final range of garments to be included in the uniform. Whilst hoping to provide a suitable style for each wearer a diverse selection of garments could detract from a distinctive look of a uniform. It would be usual to include a choice of trousers and/or skirts for the ladies. Also a choice between say long & short sleeve blouses/shirts.

Our recommended garments are based on our experience of

Long lasting garments made especially for the workwear market

Longevity of styles

Availability of styles / colours / range of sizes

Overall cost

In the event that garments are no longer available we would make available other close matching options. This is very rare.

Stock v made to order

We suggest strongly that the quickest & easiest way to proceed is through the use of stock supported garments. We offer made to order garments as needed and typically scarves & ties with customer logos/colour scheme are a cost effective accessory. Minimum quantities are typically 50 – 100 garments, or as may be agreed.

Choice of colours / logos

The general trend is to select a base colour for the suiting and then add colour through the shirting/blouses. Scarves and ties also are a useful way of adding corporate colours and logos.

Administration

Final presentation of the uniform to the wearers could be by

Free distribution of manufacturers colour brochures in hard copy on via the internet.

Emailed images & full information sheets

Fashion show – selected models wearing the uniform

Bespoke pages on our waughgroup.co.uk website

A combination of the above

All wearers would need to be contacted by email or other means to detail the uniform and to include an order form (which we can draw up) which would require them to state their choice of garments / sizes / colour as relevant.

As the orders start to arrive we can compile a master spread sheet of all the wearers & their requirements. Alternatively orders can be processed one by one.

Samples

First samples of garments are available on a sale or return basis.

List of wearers by location.

A master list of all staff entitled to uniform would be helpful to enable us to chase up any staff as needed. Email addresses too would enable us to contact wearers directly. Alternatively contact through one named person is an option.

Our point of contact within a customer could be

One named individual

Several named individuals ( appropriate for multiple locations).

Many individual wearers direct to Waughgroup.

Our view would be that we would be pleased for our named customer service person to communicate directly with all your wearers as a single point of contact, relaying any pertinent comments/matters to you directly.

Order processing

All garments would be sent in named bags. All orders will be processed by named individuals. If on line ordering is required web pages can be set up for each customer/ wearer.

First try on sets.

We suggest that we get the orders and then kit out sample bags for each wearer, with all stock plain. These would be set out back to the branches for the wearers to try on. They can note any changes as needed and then return the bags to us,

Final orders

We will then add any additional stock & make any changes before logoing the garments ready for the final delivery back to the branches. This system ensures that all orders are correct first time.

Delivery to/from the branches will minimise shipment costs.

Returns

We will take back any garments that are plain or tax tabbed. Garments that have been ordered that have been logoed can be returned to us and will be held as customer stock in the expectation that we will be able to reuse the stock in a subsequent order. Any errors by us or faults in manufacture will be rectified free of charge.

Where garments show a fault in manufacture ( ie split seams, rips, undue signs of wear) these garments should be returned to us for review. These garments will normally be either repaired or replaced, allowing for a fair wear & tear policy in some cases.

Timescale
| | |
| --- | --- |
| | Weeks from start ( est) |
| First meeting | 1 |
| Agreement to proceed | 2 |
| Final quotation, pricing & range of uniform agreed | 3 |
| Preparation of wearer order forms & other presentation materials | 4 |
| Fashion show if needed | 4 |
| | |
| First orders from wearers processed | 4 |
| Try on sets despatched | 5 |
| Try sets returned & final orders processed | 6 |
| Final orders despatched | 7 |
| Completion of any backorders / queries resolved. | 8 |
Typically we would expect to complete a supply of uniform to 50 – 100 wearers within two months. Supply of made to order garments with 6 week delivery times can delay the final deliveries.

Follow on orders / new staff

We would process orders from new staff in the same way, at the same unit costs are per the agreed quotation.

Part shipments

Our preference is not to part ship any orders which are incomplete.

Flexibility

Although we detail the usual course of events we are pleased to consider any requirements from our customers.

Other points

Artwork

Artwork for the production of logos etc should be good quality Jpeg files. Pantone reference numbers should be quoted if possible. The use of logos and other artwork containing images etc assumes that the customer is legally entitled use such logos.

Staff terms & conditions

Some employers would update their terms & conditions of employment to cover the mandatory use of the uniform, including tips on how it is to be worn.

For example some rules on skirt lengths might be set. Another consideration is to require staff to return all their uniform if they leave their employment.

Benefits in kind

We suggest all garments are either branded or logoed to comply with HMRC guidelines on the potential "benefit in kind" NIC/PAYE liability arising from the issuing of plain garments.

Staff entitlement

Most employers would set an entitlement for the supply of uniform, either in terms of overall spend per head or in terms of the number & style of garments. These guidelines can be included on the order form / website pages. We can monitor all incoming orders to ensure entitlements are maintained.

Maternity wear.

We offer a service to make up any garments that might be needed in the case of maternity or ethnic/religious grounds. In practice such wearers may wish to purchase their own clothing from a known high street retailer.

Allergies.

In the case of allergies say to particular fibres we can make garments to order

Website customer pages.

These can be highly secure & private or open. Customer web pages can also be used to order uniform directly, with the order(s) being delivered to their chosen address & the invoice going to the employer.

Funding of garments

Some employers pay for all the staff uniform. Others require the wearers to make a contribution of some kind. Return of uniform at the end of an employment can also be required.

Footwear

We supply footwear but normally there is a high level of returns. Some employers give guidelines to their staff and they are required to either buy their own or to buy their own with a contribution form the employer.

Payment terms.

We would offer normal 30 day trade credit with a monthly statement.

Made to order stock orders are payable cash with order.

Plus sized garments.

We offer to supply garments which in excess of the established ranges ( up to 24 size ladies , 50 chest mens). Where this is not feasible we usually suggest wearers buy their own garments direct from a suitable outlet & we logo/brand these garments as needed.

Confidentiality

All information we receive from customers is treated as totally confidential & will not be released to any third party. All our data is held on our secure web based admin & accounting system, with access only through defined IP addresses.

Contracted period.

In normal use we would expect a two year lifespan for most clothing, depending on the number of garments issued etc. We would normally look for a notional two year supply agreement with our customers for the supply of uniforms.

Prices

Prices would be fixed for a year period and thereafter changed only to reflect any change in the Retail Price Index.

Terms & Conditions

All sales are made subject to our general terms & conditions which are shown on our website, unless agreed otherwise or detailed above.